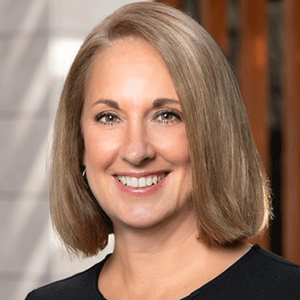 Photo of Sandy Kuohn
Sandy Kuohn

Executive Vice President
Human Resources
Connect with Sandy
Sandy Kuohn is executive vice president and chief colleague officer of City National Bank. Sandy is responsible for the development and implementation of City National's human resources strategy. She holds primary responsibility for talent management, leadership development, recruiting, training and development, compensation and benefits, payroll, colleague engagement, colleague retention, colleague relations, and workforce diversity, equity and inclusion. She is also a member of the company's Operating Committee and Executive Council.
Sandy joined City National in July 2022 from Huntington National Bank, headquartered in Columbus, Ohio. During her time at Huntington, she led human resources and drove complex organizational change. This included due diligence and integration initiatives for seven mergers and acquisitions over a 10-year period.
Prior to Huntington, Sandy served in HR leadership, management consulting and organizational development roles at Urban Science, an international automotive consulting firm in Detroit; SDK Consulting, the private leadership consulting firm she founded; Electro Wire Products, an automotive supplier; and Anderson Consulting, a multinational professional services company. Sandy was also recognized by "Crain's Detroit Business" in 2019 as a Notable Woman in HR.
Sandy is active in the community. She serves on the board of Ronald McDonald House Charities of Southern California and has served on the board of trustees of CATCH (Caring Athletes Team for Children's and Henry Ford Hospitals) since 2005, raising funds for sick, vulnerable and economically disadvantaged children in Detroit. She joined the board of directors of Emanuel Steward Champions of Tomorrow in 2019.
Sandy is an alumna of Michigan State University. She graduated with honors with a bachelor's degree in finance.