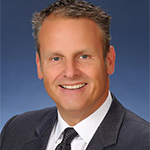 Photo of David Hasenbalg
David Hasenbalg

Food & Beverage
Group Head, Senior Managing Director
Connect with David
By submitting this form you are authorizing City National Bank to: (1) contact you via phone and/or email; (2) send you emails for marketing purposes; and (3) collect and use your information according to the terms of our Privacy Policy.
David Hasenbalg is the group head for City National Bank's Food & Beverage Group. Based out of Irvine, California, he leads the bank's Food & Beverage Group, which provides comprehensive financial solutions throughout the country.
Mr. Hasenbalg has more than twenty-five years of food and beverage banking experience. Prior to joining City National, he served as managing director of GE Capital's Food & Beverage Group.
He has nearly a decade of experience with the E. & J. Gallo Winery; he has held various management roles in California and served as the national sales manager in England, Belgium and Germany.
Mr. Hasenbalg earned his bachelor's degree from DePauw University and has served on its alumni board of directors. In addition, he is on the board of the Second Harvest Food Bank and on the board of the University of California Riverside Executive Program. He lives in Newport Coast, California, with his wife.