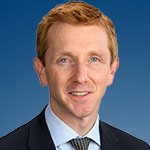 Photo of Zachary Chubb
Zachary Chubb

Managing Director
Northeast Region
Connect with Zachary
By submitting this form you are authorizing City National Bank to: (1) contact you via phone and/or email; (2) send you emails for marketing purposes; and (3) collect and use your information according to the terms of our Privacy Policy.
Zachary Chubb is a managing director with City National Bank's Food & Beverage Group. Based in New York, he leads the East Coast food and beverage sector coverage. He provides comprehensive capital solutions supported by City National's full product suite to help customers achieve their financial and strategic objectives.  
Mr. Chubb has more than 15 years of corporate finance and consumer sector experience, executing over $20 billion in transactions. He has extensive experience advising food and beverage companies and private equity firms on mergers and acquisitions, corporate financings, leveraged buyouts, IPOs and risk management. Prior to joining City National, he was a director with RBC Capital Markets' Food & Beverage investment banking group. Prior to RBC, he was a senior member of Accenture's global consumer consulting practice.

Mr. Chubb earned his bachelor's degree from Vanderbilt University and his Master of Business Administration from New York University's Stern School of Business.