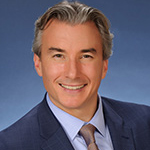 Photo of Justin D'Affronte
Justin D'Affronte

Managing Director
Southern California & Southeast Region
City National Bank
Connect with Justin
By submitting this form you are authorizing City National Bank to: (1) contact you via phone and/or email; (2) send you emails for marketing purposes; and (3) collect and use your information according to the terms of our Privacy Policy.
Justin D'Affronte is a managing director with City National Bank's Food & Beverage Group. Based in Irvine, California, he supports food and beverage industry executives with creative financing solutions and industry intelligence. Working with City National's team of experts, he provides the bank's full range of financial solutions to food and beverage businesses nationwide.
Mr. D'Affronte has more than 20 years of financial services experience. Prior to joining City National, he served as a senior vice president with GE Capital's Food & Beverage Group for eight years.
Mr. D'Affronte earned his bachelor's degree from the University of Southern California's Leventhal School of Accounting and his Master of Business Administration from the university's Marshall School of Business. In addition, he is a certified public accountant in the state of California. Active in the community, he volunteers with the Second Harvest Food Bank of Orange County.