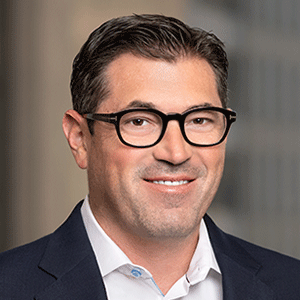 Photo of Jeffrey K. Tischler
Jeffrey K. Tischler

Executive Vice President
City National Bank
Connect with Jeffrey K.
Jeffrey K. Tischler is executive vice president and chief credit officer at City National Bank. He is a member of the bank's Executive Council and leads the Second Line of Defense function that provides independent oversight of the bank's credit risk. He also supervises the credit approval process, oversees loan portfolio and portfolio analysis, administers credit-training programs for officers and manages special assets.
Jeffrey joined City National in July 2023 with 20 years of banking experience, having served in a number of capacities including credit management. He previously served as president of Paloma Investments, where he was responsible for the oversight and management of several portfolios. Prior to that, Jeffrey held several leadership roles at Fifth Third Bank, including credit risk executive, head of wholesale excellence and senior commercial banker. This included various roles in the first and second lines of defense, responsibility for credit adjudication and helping shape the bank's risk appetite, commercial transformation work, and serving as the head of commercial banking for one of Fifth Third's regions. In addition to his career at Fifth Third, Jeffrey served as a senior managing director at Conway Mackenzie, a leading management consulting firm, where he worked in the turnaround and restructuring practice.
Jeffrey is a member of the American Bankruptcy Institute and the Turnaround Management Association. He serves on the board of trustees of the nonprofit Camp Tamarack and previously served on the board of trustees of Jewish Vocational Services in Detroit.
Jeffrey earned a bachelor's degree in business administration from Eastern Michigan University.