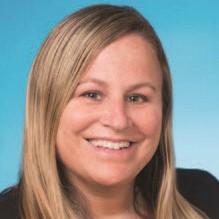 Photo of Gretchen van Eyck
Gretchen van Eyck

Vice President, Private Banker
City National Bank
Gretchen van Eyck is a vice president and private banker with City National Bank's Private Banking team, focusing on the law firm space. She partners with teams in New York, Washington, D.C. and Los Angeles, helping high-net-worth clients achieve their goals through coordinated delivery of customized banking, lending and wealth management services.
Ms. van Eyck has 17 years of experience in the financial services industry, focusing on high-net-worth individuals. Prior to City National she worked as a credit advisor at HSBC, focusing on complex credit and banking needs. Before HSBC, she worked at Citibank and spent three years in their Law Firm Group with AM Law 100 and 200 clients across the East Coast and California. She began her banking career at Commerce Bank in their private bank as a credit analyst.

Ms. van Eyck graduated from the University of Vermont with a bachelor's degree in English and business administration.