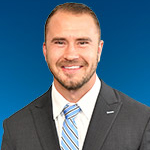 Photo of Povas Miknaitis
Povas Miknaitis

Associate Relationship Manager
Aerospace & Defense Team
City National Bank
Connect with Povas
By submitting this form you are authorizing City National Bank to: (1) contact you via phone and/or email; (2) send you emails for marketing purposes; and (3) collect and use your information according to the terms of our Privacy Policy.
Povas Miknaitis is an associate relationship manager with City National Bank's Aerospace and Defense team. He assists the relationship team in all aspects of day-to-day activity and keeps them informed on the latest aerospace and defense industry research.
Mr. Miknaitis has more than 14 years of aerospace and defense industry experience, including military service during which he was a Marine Corps Scout Sniper team leader deployed to the Middle East. He joined City National after growing a company's Department of Defense sales by more than 100% in under three years.
Mr. Miknaitis received his undergraduate degree in finance from the University of San Diego School of Business. As chief logistics officer for the non-profit Warrior Foundation, he volunteers for them and other veteran non-profits. He participates in speaking events for the bank as well as the non-profits he supports, and was named San Diego Veteran of the Year in 2019.