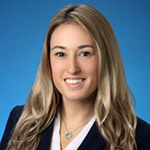 Photo of Laura Dodd
Laura Dodd

SVP, Relationship Manager
Aerospace & Defense Team
City National Bank
Connect with Laura
By submitting this form you are authorizing City National Bank to: (1) contact you via phone and/or email; (2) send you emails for marketing purposes; and (3) collect and use your information according to the terms of our Privacy Policy.
Laura Dodd is senior vice president and senior Relationship Manager for City National Bank's Aerospace and Defense Eastern US banking practice. She provides expertise to clients in aerospace, defense, and government services on industry trends and financial strategies in support of growth, recapitalizations, acquisition financings and risk reduction.
Ms. Dodd has more than 11 years in commercial banking. She previously served as vice president and Relationship Manager at Bank of America. She began in internal reporting, financial analysis and legal finance.

Ms. Dodd graduated magna cum laude with a bachelor's degree in business administration from the University of North Carolina, with concentrations in finance and marketing. She sits on the membership committee of the San Diego Military Advisory Council and the steering committee of the San Diego chapter of the Aerospace & Defense Forum. In 2021, she was recognized in NEXT: Most Powerful Women in Banking by American Banker magazine.